2019-20 Fieldwork Synopsis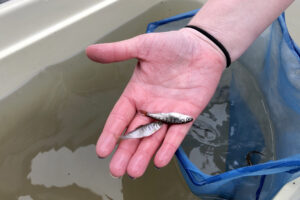 During the 2019-20 winter flooding season, the California Rice Commission's Pilot Salmon Project acquired approximately 12,000 baby salmon from the Coleman National Fish Hatchery with the objective of testing out four different rice field management practices for their potential to maximize salmon rearing habitat and then releasing these fish into the Sacramento River, including approximately 1,000 surgically equipped with sophisticated tracking tags.
The overall science program and related fieldwork was conducted by a team from the University of California, Davis under the direction of Dr. Andrew Rypel, Associate Professor at the Center for Watershed Science in collaboration with California Trout. Graduate student Rachelle Tallman was the lead scientific researcher for the project.
The eight, half-acre test plots (pictured in the graphic below) included (1) a standard winter-flooded rice field, (2) deep channels, (3) woody cover, and (4) both channels and woody cover. Each treatment plot was replicated. The study site was at River Garden Farms (RGF) in Yolo County. These treatments were tested to see if any of them would result in greater fish growth productivity and /or survivability.
Each test plot had about 1,125 salmon introduced into them. Of these, about 1,000 were free-swimming and about 125 were within protective cages so they could be surgically fitted with Juvenile Salmon Acoustic Telemetry (JSAT) tags. Some of these fish to be used for JSAT tagging were placed at a second rice field site at Knagg's Ranch to add site diversification and, therefore, improved certainty that enough "JSAT telemetry fish" would survive and thus be available for JSAT tagging in March of 2020. The free-swimming salmon at RGF were periodically captured, measured, marked and released so that various key data points could be collected during the time the fish were within the study plots.
Another set of nearly 2,000 salmon were stored at UC Davis. The main role of these fish was to provide an additional population of JSAT fish for a "paired" release into the Sacramento River that would represent salmon as they are released directly from the hatcheries without the benefit of growth within floodplain habitat (such as what winter-flooded rice fields provides) to see if the fish reared in the floodplain may have higher success making it out to the Pacific Ocean.